The PBHFA Announces Strategic Relationship With FIrst Republic Bank
The Palm Beach Hedge Fund Association (PBHFA) announces a strategic relationship with First Republic Bank, a leading hedge fund, private banking, private business banking, and private wealth management institution.  The Partnership enables our members to directly access First Republic's suite of bespoke wealth management services.
"We are thrilled to work directly with First Republic Bank as a strategic partner.  Their depth of knowledge, investment talent, and a broad range of specialized offerings create an ideal synergy with our hedge fund and ultra-high net worth membership base", said PBHFA's Secretary/Treasurer, Dr. Anna Pomeranets.
William E. Benjamin, Senior Relationship Manager First Republic, added "We are proud to sponsor the Palm Beach Hedge Fund Association. We are committed to serving the needs of PBHFA's members. We have developed a suite of specialized offerings tailored to the complex nature of this industry and have had the opportunity to bank over 900 hedge fund firms. It would be our privilege to count you among them."
Membership in the Palm Beach Hedge Fund Association is open to hedge fund and alternative asset professionals, ultra-high net worth investors, venture capitalists, financial traders, and selected industry service providers. The PBHFA serves its South Florida and a global membership base of over 1600 members by hosting a variety of networking and educational events as well as sponsoring industry conferences.
About The Palm Beach Hedge Fund Association
The Palm Beach Hedge Fund Association is a South Florida trade organization with global reach. The membership are primarily domiciled in Florida, but hail from Eastern Europe, Ireland, England, Germany, South America, The Caribbean, Africa and the rest of the United States.
Our members consist of active hedge fund managers/ professionals, ultra-high net worth investors, family offices, financial traders, investment bankers, academics, financial institutions, FOF's, foundations, allocators, as well as the best of the best of service providers including third-party marketers, data providers, prime brokers, administrators, auditors, lawyers, risk managers, and fintech firms
Since launching in the autumn of 2013 with an original core of five members, the association has exponentially grown to over 1600 members consisting of the who's who of Florida finance.  We have become the voice and go to source for the South Florida financial community in this short time.
About First Republic Bank
Founded in 1985, First Republic Bank offers private banking, private business banking, and private wealth management, including investment, trust and brokerage services.
The bank delivers exceptional relationship-based service with a commitment to responsive support. Services are offered through preferred banking or wealth management offices primarily in San Francisco, Palo Alto, Los Angeles, Santa Barbara, Newport Beach, San Diego, Portland, Palm Beach, Boston, Greenwich and New York City.  First Republic offers a complete line of financial products for individuals and businesses, including deposit services, and residential, commercial and personal loans.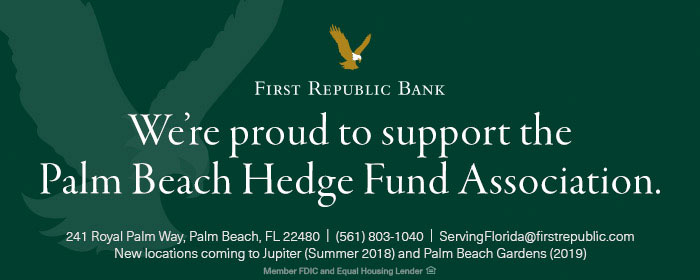 Media Contact:
Jonathan Beaton
407.719.3576